DU7
DIN-rail mountable Data Unit
The DU7 is a Data Unit with many inputs/outputs to connect a machine. It can be build in the machine's control box and fits on a DIN-rail. The WEB-DU software is used to operate a number of DU7's from a touch panel PC. WEB-DU allows to enter declarations, administrative data, scrap, to see machine and production information etc.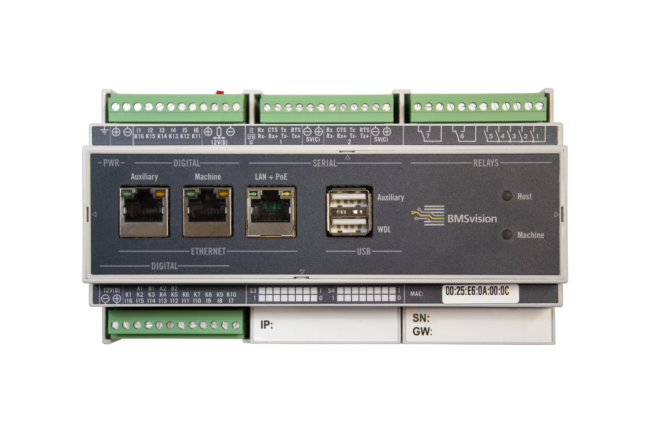 Input or retrieve data in real time

Access data accurately and quickly

Enable data exchange between machines
Features
16 digital/counter/encoder inputs for a length counter, ticket tagging device, machine signals.
7 relay outputs for machine run/stop and speed control.
2 serial ports (RS232/422/485) for printer, scale, ...
3 Ethernet ports for company LAN, Ethernet machine, ...
1 USB ports for printer, scale, ...
Power: 12 to 48 Vdc or PoE, 10 W.
DIN-rail mountable, 9 modules wide.
Questions?
Submit your data and you will be contacted by one of our experts