BMSvision at K 2019 - Düsseldorf, Germany (16-23 October 2019)
Visit us at K 2019 - Hall 10, booth G33
Since the last K exhibition in 2016, BMSvision has strengthened its developments in the fields of Smart Factory, machine connectivity, Industry 4.0 and mobile MES solutions.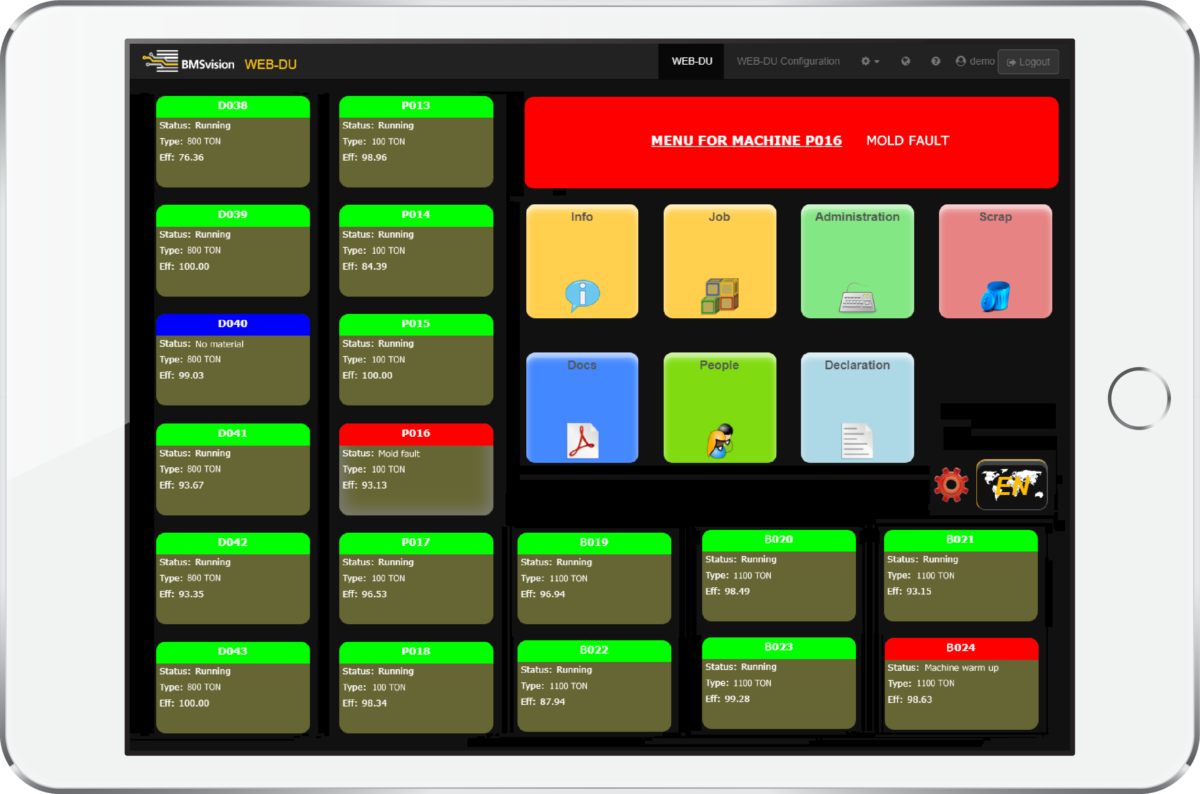 As a result of these efforts, BMSvision is able to reveal following new MES functionalities and products:
WEB-DU is a web application for managing a group of machines. It can be used to remotely enter rejects or stop cause information from any location. The look and feel of the WEB-DU has been totally reworked in order to match the smart phone lookalike user interface used for all the other data capturing terminals BMSvision is offering.
MyMES is the first real MES App available on Apple and Play Store. It includes a cockpit view and an alert module. The cockpit shows the KPI's and most important production and quality data of the plant while the alert module highlights problem areas that need immediate attention.
Smart Bracelet: This low cost wearable device promptly informs operators when there is a need to intervene on a machine. As soon as the "Events & Alerts" software of the MES system detects a warning or alarm condition on a certain machine, the operator in charge of the machine is informed as his bracelet starts vibrating and the machine number and type of alarm is displayed on the bracelet's screen.
SQL Server: PlantMaster will be supporting MS SQL Server databases as an alternative to Oracle.
The OPCconnectoris a user-friendly tool allowing easy and straightforward integration of any machine OPC server available on the network. It was developed to support the Euromap 77 interface for injection moulding machines but it can be configured to interface with any OPC UA server without the need for extensive programming thus reducing the total investment as well as the cost of ownership for the MES system.
BI Connect:With this optional extension to the PlantMaster BI tool, all data is put available for use in standard business analysis tools such as Qlik Sense and Power BI. With these tools, the user can freely search and explore across all data, instantly pivoting his analysis when new ideas surface. Innovative visualizations put all data in the right context allowing fast and smart decisions.