DU9
5" touch screen Data Unit
The DU9 is a high-end member of the BMSvision data collection terminals featuring a 5" touch screen and a graphical intuitive web-based user interface for user friendly interaction with the operator. The DU9 interacts as a front end and is the HMI for all BMSvision's Master systems.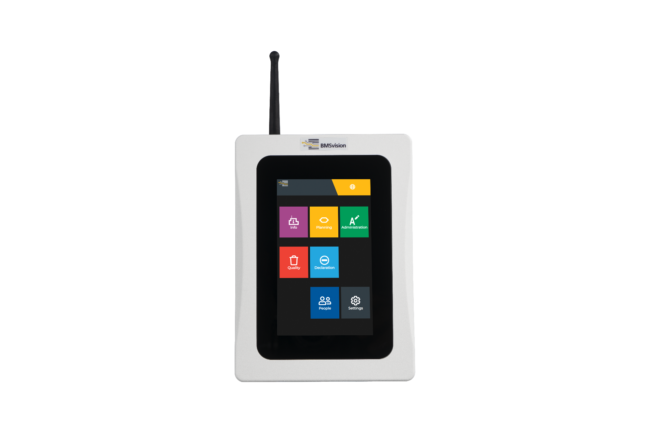 Input or retrieve data in real time

Access data accurately and quickly

Enable data exchange between machines
Features
Direct access to all pages.
Wireless (Bluetooth class 1) via WDL-Server or wired (Ethernet) connection to the central system.
Remotely operable from any device that has an HTML 5 browser with Java script.
Continued operation and machine monitoring in case of network or server failure (optional).
On screen language selection and unicode Chinese supported.
Optional configurable pages.
Benefits
Manual entry of down time reasons, scrap input,..
Display of production information: OEE, KPI's, units produced,..
Display of planning information: actual job status, jobs planned,..
Energy monitoring
Operator tracking
Questions?
Submit your data and you will be contacted by one of our experts